Experiencing Co-Living at Sunday Mills
Last month, we were offered the opportunity to spend a night at Sunday Mills, an Assael-designed co-living development that we've seen through from concept to completion.
The recently completed Sunday Mills is a 315-bed co-living scheme for development partners DTZi and Halcyon. Sustainably located within a five minute walk from Earlsfield Station, the 1.3-acre site, operated by Folk Co-living and officially opened in October, comprises waterfront co-living rooms set across two buildings with views of the River Wandle.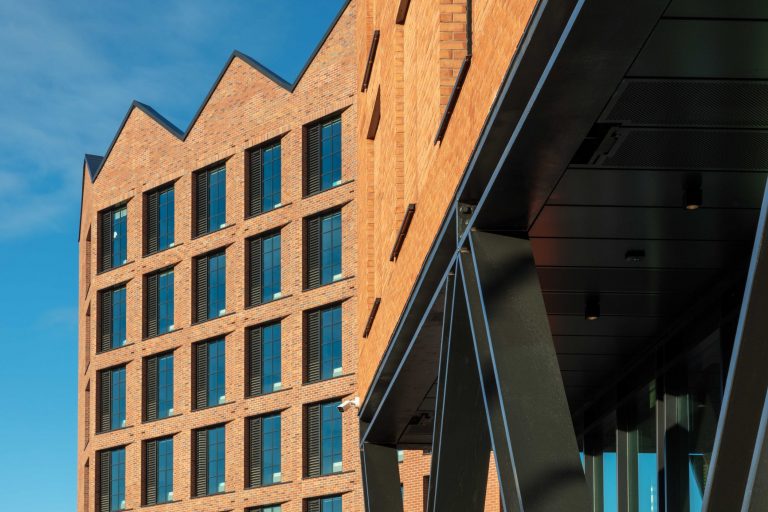 Having both worked on the project since the initial concept stage, Tim Chapman-Cavanagh (Director) and Ed Sharland (Associate Director) jumped at the chance to stay overnight at Sunday Mills and used it as an opportunity to appraise their design – an experience not many architects get the chance to do.
Undertaking post occupancy studies like this helps us to create a strong feedback loop – lessons learnt can be fed into the design of future developments. It also allows us to speak to residents and the operations teams to understand where the design works well and where things could be improved.
In this informal Q&A, Tim and Ed answer questions on how they found their stay at Sunday Mills. A more detailed 'Lessons Learnt' document will be produced for the client and will be disseminated to staff internally.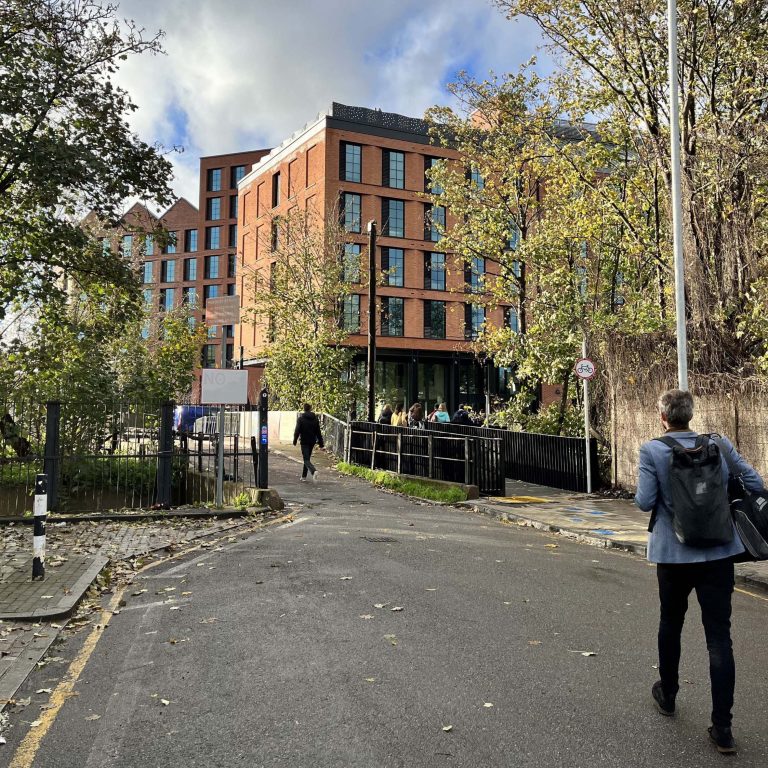 What, in your opinion, is the best thing about the development?
Tim: This is a difficult one because I think there are so many appealing aspects to the scheme as a whole, but for me, it's the overall relaxed and tranquil feeling to the interior of the buildings. Some developments of this scale can end up feeling impersonal and hotel-like, but the material palette used for the interiors and the development's setting in a quiet, green location next to the river makes the building feel like a calm and homely space.
Ed:  Getting to spend the night away with Tim… No, only joking. For me, it's the entrance and lobby space, which give you a real 'wow' when you walk in, even for a fairly miserable midlander like me. At the lower levels generally, the sense of space and the uninterrupted flow to the amenity spaces is very effective. What works particularly well is the smaller spaces – the nooks and booths that allow people to find a quieter, more private area, whilst still feeling part of the main spaces and community. The co-living rooms are compact, but the wide range of amenity spaces completely make up for this, particularly the huge MasterChef-style kitchen space and private dining room that can be booked out by residents.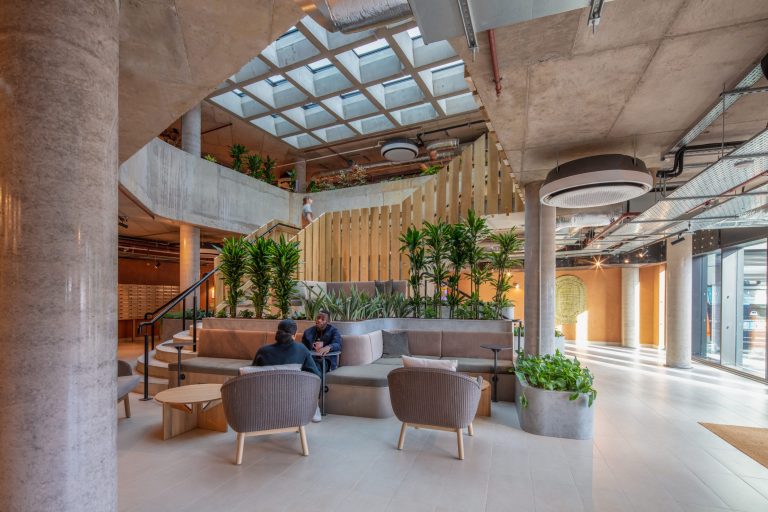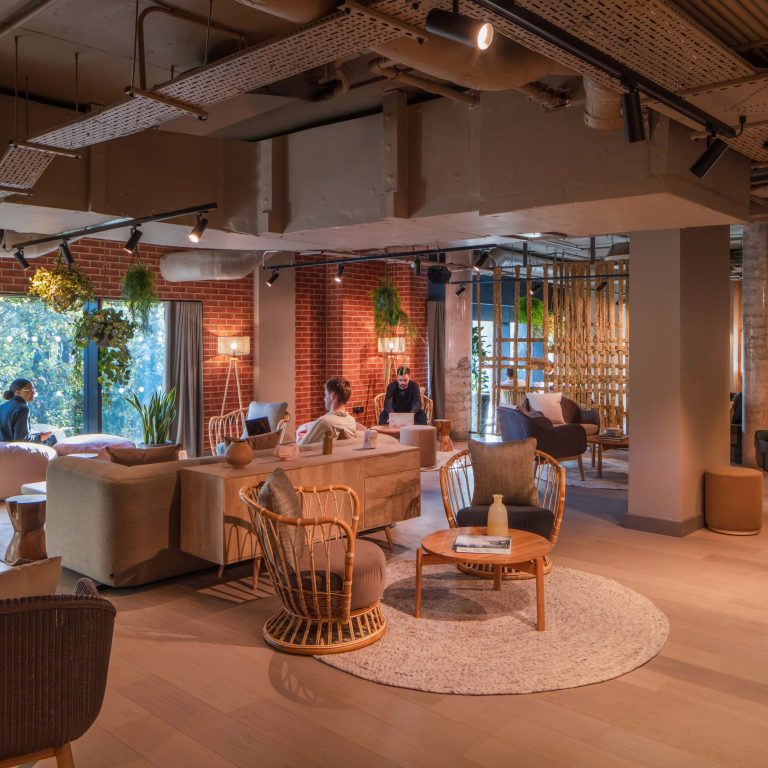 How did you find the cooking facilities?
Tim: Well, this is very much my territory, having been a chef in a previous life (before becoming an architect)! The MasterChef-style kitchen is a really excellent space. There is plenty of room for food preparation and storage, and the open plan nature of the room promotes a community feel and allows residents to get to know one another. The kitchen space connects to the external podium terrace, which includes a top-of-the-range electric BBQ, which we used to cook our evening meal. I can imagine this being a very social area, particularly in summer. There's an excellent offer of pans, plates, utensils and other kitchen equipment, so it isn't necessary for each resident to buy these separately, which reduces the need for extra storage space in their rooms.
Ed: I did a bit of exploring while Tim did the cooking, and the space has been really well thought out to make life easier for residents. For example, rather than having dishwashers and extra sinks cluttering the main kitchen area, a separate 'wash area' has been created for people to use after eating.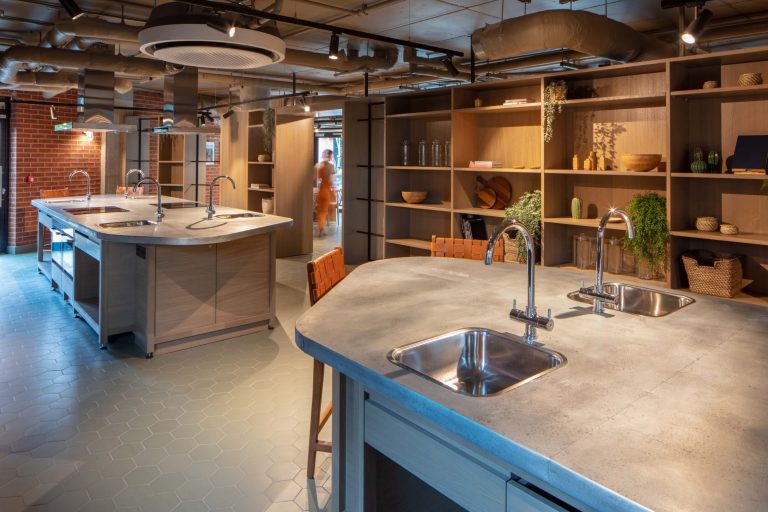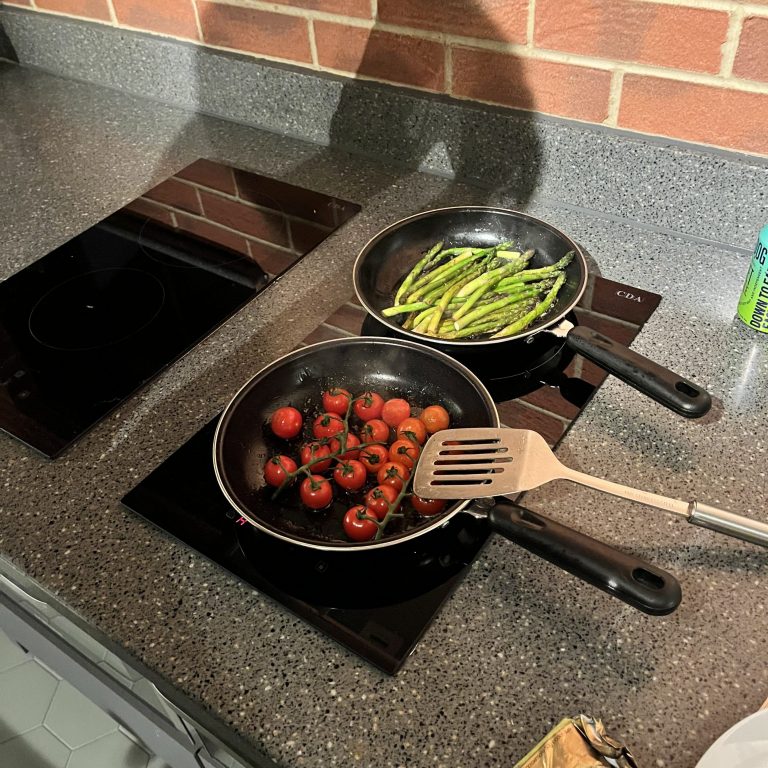 What about the rest of the amenities on offer as part of the overall package?
Ed: Having designed it from the start, we knew there would be generous amount of amenity space at the lower levels, but it really is impressive. All of the spaces are connected seamlessly (albeit by fob access for security) and, as Tim said previously, there is a really homely feel to each of the spaces, which will appeal to residents. The colour palettes are warm, and the funky lighting helps to soften areas that might otherwise have felt cold. There is also a great variety of soft furnishings and furniture (sofas, armchairs, tables, booths), so people can pick the kind of area to relax in. Importantly, the more functional spaces are not forgotten either – with generously-sized and conveniently-located laundry and parcel rooms, and storage space for larger items too.
Tim: The cinema room has very comfy seats and excellent sound quality – I can imagine this being used a lot by residents. Although we didn't get a chance to use it, the gym is very well equipped, and the clever use of mirrors make the space feel much larger. There is also a separate room for classes like yoga, which is important. The outdoor terrace areas are a huge bonus; they have a good amount of seating and the rooftop terrace has an especially nice feel to it, with the lit pergola area and great views across London.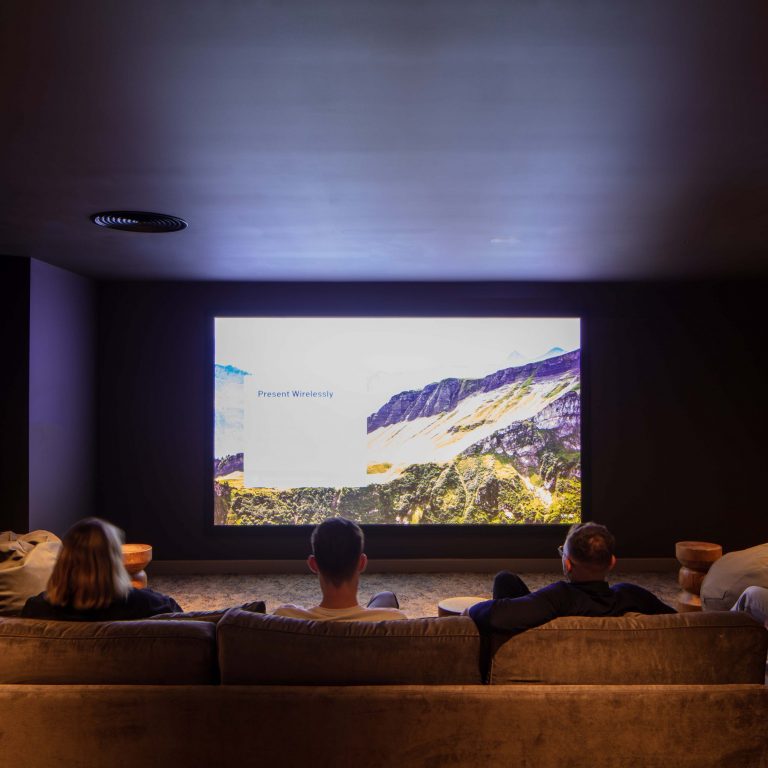 How did you find the co-living rooms?
Tim: I was pleasantly surprised by the rooms and how spacious they felt. There is quite a minimalistic feel to the interior design in the rooms, but I think this will allow residents to personalise their own space. The kitchen is adequate for those wanting to cook up something quickly in their rooms and the wardrobes are very spacious too. The majority of rooms have full-height floor-to-ceiling windows, which helps to provide a sense of space and a really nice high-quality feel to the room. It also means when you first wake up, you can lie in bed and have a great view out.
Ed: The bathrooms are generally spacious and have a nice terrazzo shelf in each that adds a bit of character. The bedside table lights are great and very functional, and plug sockets have usb ports, which is perfect for phone charging. In terms of storage, alongside the wardrobes, there is space under the beds as well as extra storage lockers located on lower levels for bigger items such as surfboards, golf clubs etc, which I think is essential for this type of co-living product.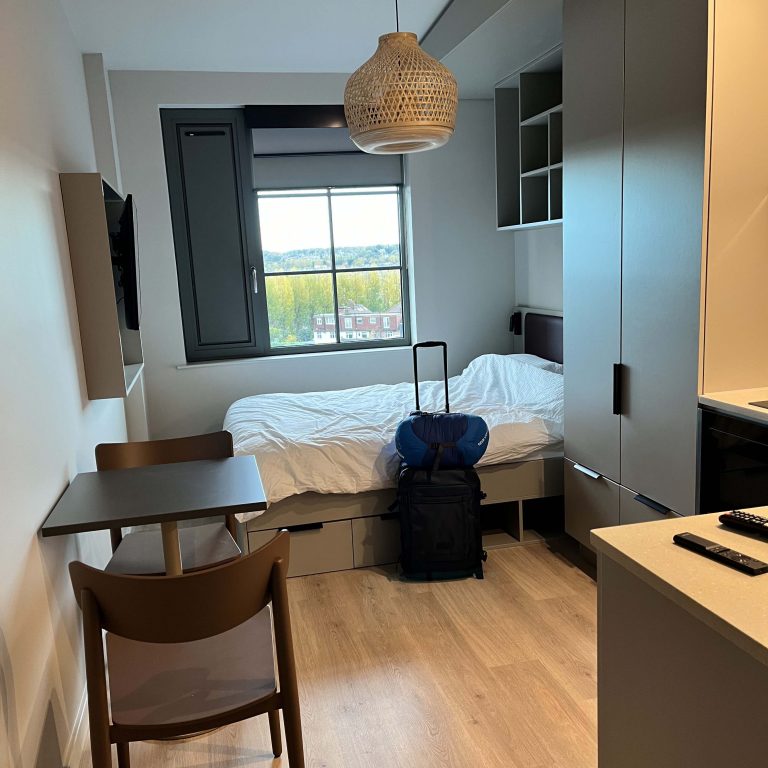 The development is located adjacent to the railway; does this create disturbance in terms of noise and vibrations?
Ed: The room I slept in faced onto the railway and I would say that you can hear the trains, but only on a minor level. The windows were specified to achieve this acoustic insulation and the rooms all benefit from heating and cooling, so there's no need to open the window for ventilation if residents don't want to.
Tim: The building in general is very quiet – there are carpets in all the corridors, so you can't hear people tramping up and down, and there is no noise of slamming doors (which can be a particular disturbance) as they are all on soft closers as well. My room was on the river side of the building, so I had limited noise from the railway, just the nice calming sound of the River Wandle.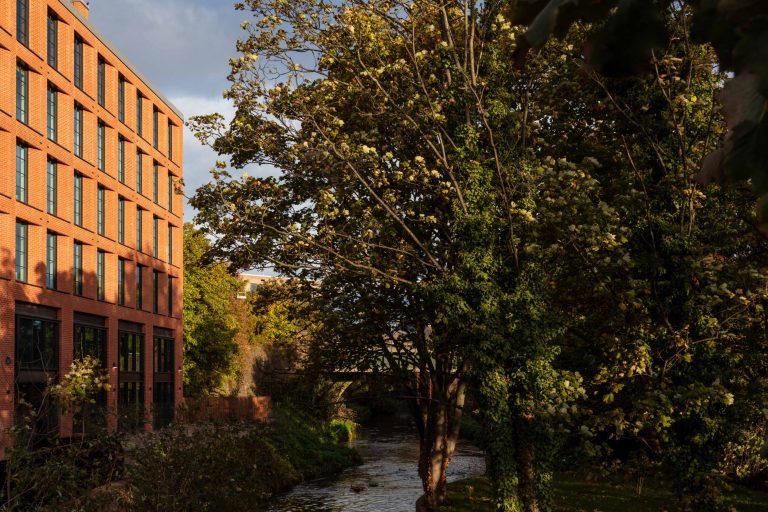 Is there adequate workspace/co-working space within the development?
Tim: In a word, yes. The space allocated to co-working on the ground and mezzanine floors creates a really nice environment to work in, particularly with the double-height windows and connection to nature with the adjacent external space and River Wandle beyond. There's also a good variety of different spaces (desks, sofas, soundproofed booths etc) so that there's something for everyone in terms of public and private areas. There also seemed to be a good number of sockets and a fast connection speed to ensure agile working.
Ed: I think this space will be used extensively by residents – they'll be able to easily separate their work/life space and time, which we know has been an issue since Covid-19 and more flexible working nationwide. And as Tim said, there is a real variety of spaces, and I think this is particularly important for a co-working zone. It will be even better when the restaurant opens up in the new year and residents will be able to move easily between the two spaces. The plan is also to have a membership scheme for residents in the local area who'll also be able to use the co-working space.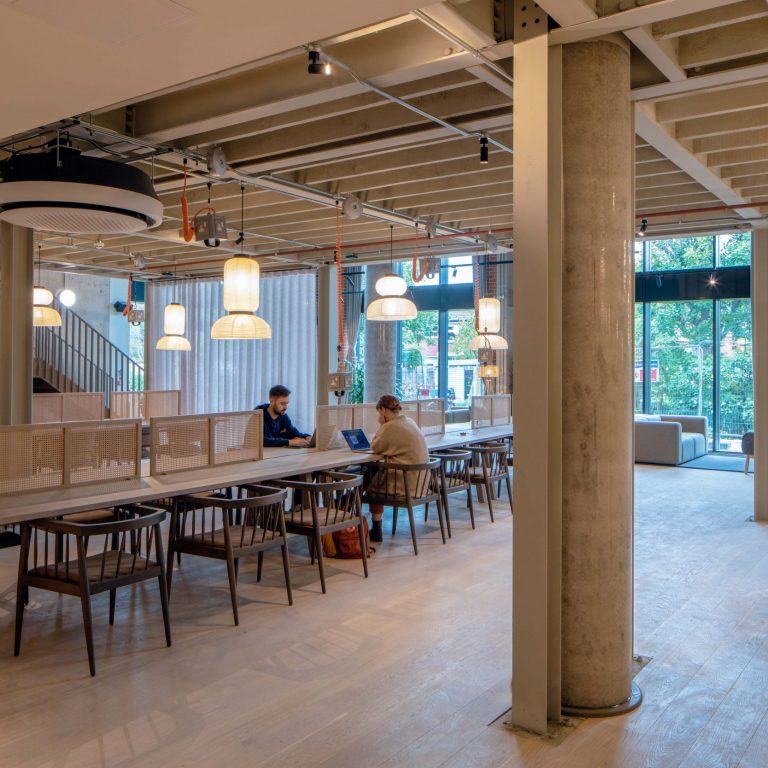 What is your favourite architectural feature of the development?
Ed: There are so many great architectural features, it's hard to pick just one… I think it would have to be either the roofscape and varied forms of the buildings, or the industrial style metalwork that runs throughout the development, like the W steel between ground and first floors – which is one of the first things you see upon arrival – and the vertical I-beam columns and perforated metal balustrading.
Tim: The large, industrial-sized windows that reflect the heritage of the site. At the right time of day, the depth of the window reveals creates incredible angular shadows on the façade. The double-height windows fronting the River Wandle are also an impressive feature and create a bright co-working space for residents.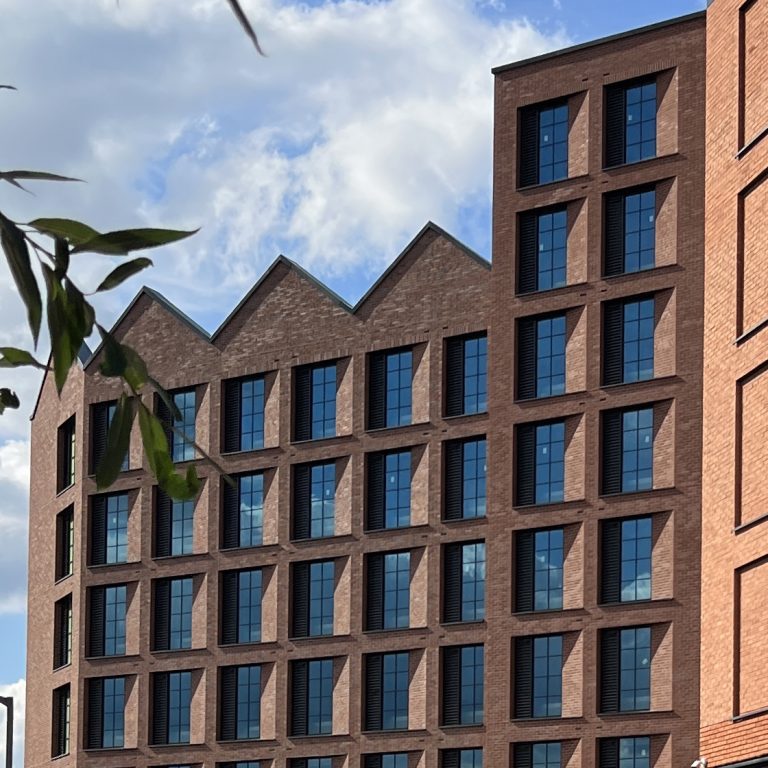 Final question – would you live here?
Tim: Rewind 10 years, ok maybe 15… and if the wife, two kids and dog decided to kick me out tomorrow, then yes, definitely. I think there is a particular demographic that will be attracted to this kind of living, but it could also be a good option for any age group, either as a transitional or longer-term option. The flexibility that this product offers is only going to rise in popularity, particularly in the current economic climate. The development has a huge amount going for it, not least the lovely quiet Zone 2 location, and all of the amenities and co-working spaces on offer too.
Ed: I'm in a similar position to Tim, where it would have suited me when I first moved to London and wanted an alternative option to living in a shared house. The amenity offer in this development is outstanding and when considered alongside the 'all-in' cost arrangement, which allows people to budget without fear of unexpected large bills, and the convenience of not having to arrange Wi-Fi, sort gym membership or worry about the boiler breaking, it really is an excellent place to live, and that's what will attract people and make them stay.  
–
Read the Architects' Journal piece on Sunday Mills here.