Architecture
Residential
RightSizer at Meridian Water
A regenerative MMC system aspiring to the highest levels of sustainability
Enfield / London
Overview
RightSizer is a regenerative MMC strategy aspiring to the highest levels of environmental, social and economic sustainability. 
Our vision for a flexible and sustainable construction system was set out in our winning submission for Meridian Water's 'Placemaking with Purpose' competition in 2020, which was launched in response to the ambitious aims of Meridian Water's Environmental Sustainability Strategy (ESS).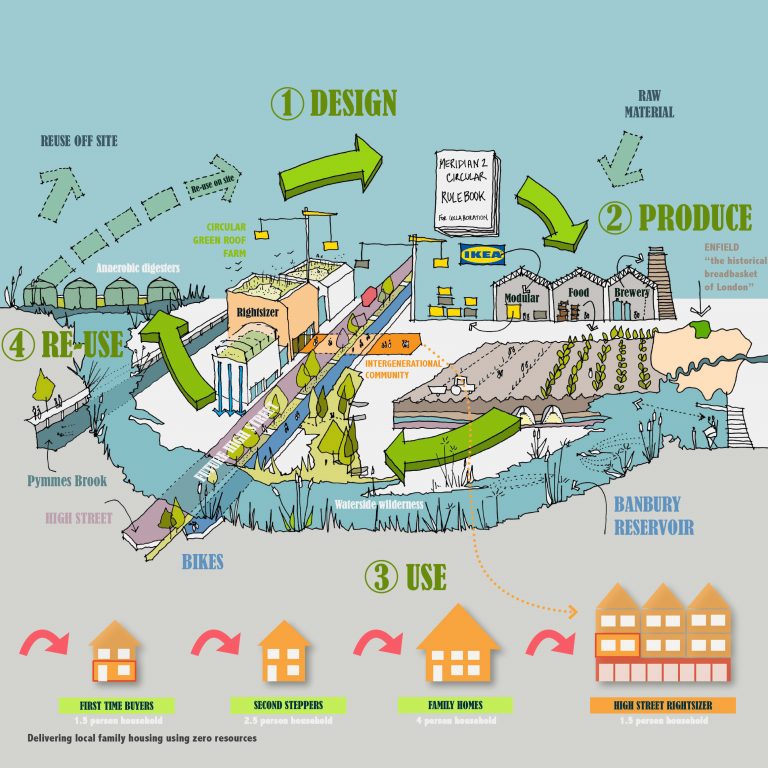 The driver for building layout flexibility is the dynamic physical and operational requirements of a senior living community underpinned by a comprehensive 'care continuum'. People's physical and care needs can change significantly over time and we need a building that can adapt to this. Drawing an analogy with our residents, we want to extend building longevity by enabling an active life with plenty of scope for reinvention, in other words, flexibility.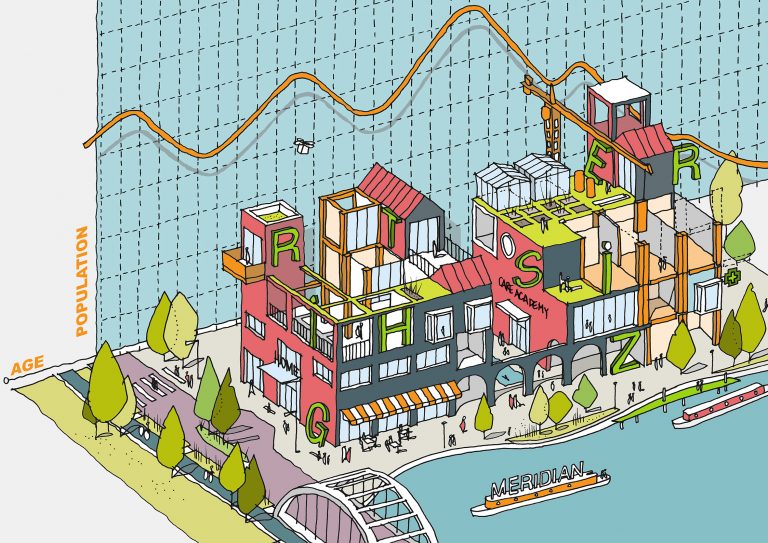 Since the competition-winning commission, RightSizer has evolved beyond 'later living', and the team has expanded the functionality of the system to become a universal construction solution for multiple uses, including office, light industrial, parking and meanwhile uses.
RightSizer at Meridian Water now offers a vision and how-to guide to designing buildings for 2030 and beyond, heralding a low carbon world.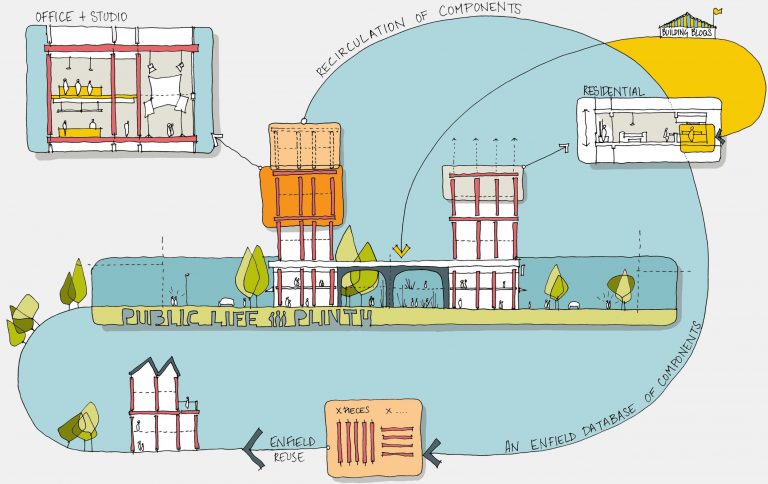 Our RightSizer system is inspired by John Habraken's Open Building movement from the 1960s, which espouses the idea and discipline of support / infill layers. Habraken was preoccupied with remedying the generic nature of 20th century mass housing.
The system comprises a long term 'support' layer, the superstructure, which has been designed for disassembly and reassembly. The support layer allows layout reconfiguration and optionality in terms of ongoing service riser locations. An 'infill' layer comprises non-load bearing partitions, panels and components, the 'stuff' making up the accommodation inside the 'support' system.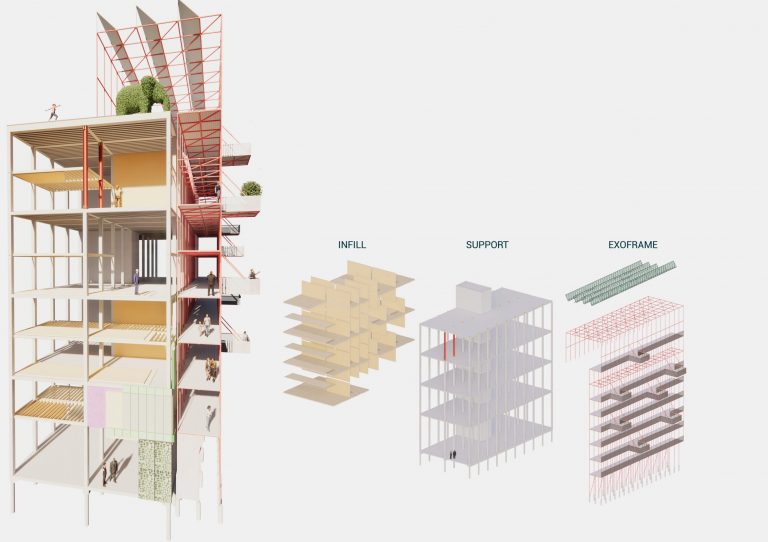 Central to our vision for the RightSizer system, and set out by the Meridian Water Sustainability Statement, is an ambition to minimise embodied carbon, targeting whole lifecycle embodied carbon emissions below 300kgCO2e/m2, closely aligned with LETI 2030 guidance.
This metric is achieved through: a structure that is entirely demountable, with components designed for complete disassembly and reuse; by maximising locally-manufactured components where possible; and through new technologies, including low carbon cement. For our competition submission, we presented a comparison between a reinforced concrete building with concrete made in London, and a CLT building with CLT transported from Finland. The proposition is that the embodied carbon of the concrete building is on par with the CLT building when the transportation carbon has been factored in.
As featured in NLA's Resilient London: Confronting Climate Change research paper, RightSizer is an emerging framework to encourage the construction industry to work together to respond to the biggest challenge of our time. The system sets out a roadmap to circular MMC, net zero buildings and a new construction ecosystem through the standardisation of component sizes, interoperable connection and component digital passports.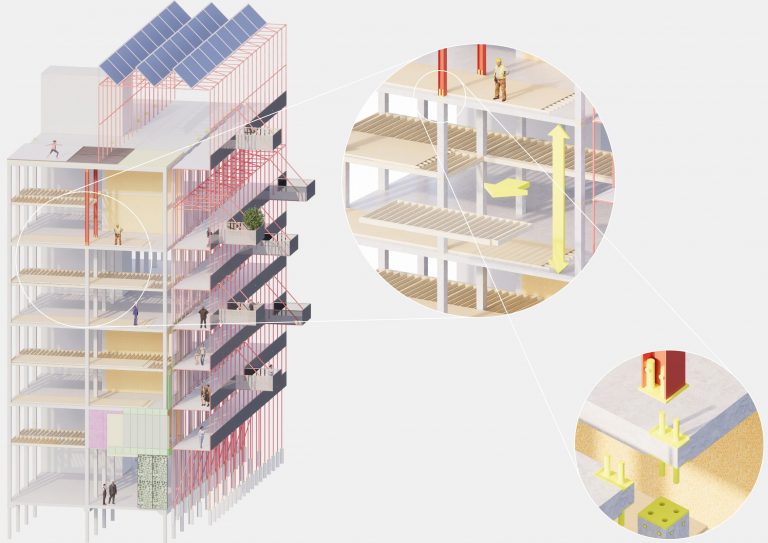 Meridian Water and Enfield Council have identified a land plot at Meridian Water Phase 2 to develop a pilot project using the RightSizer system. The project is currently funded by Enfield Council and has attracted funding from ReLondon and the EU's Horizon fund; preliminary discussions have also taken place with MHCLG and the GLA to assist with funding to develop the pilot.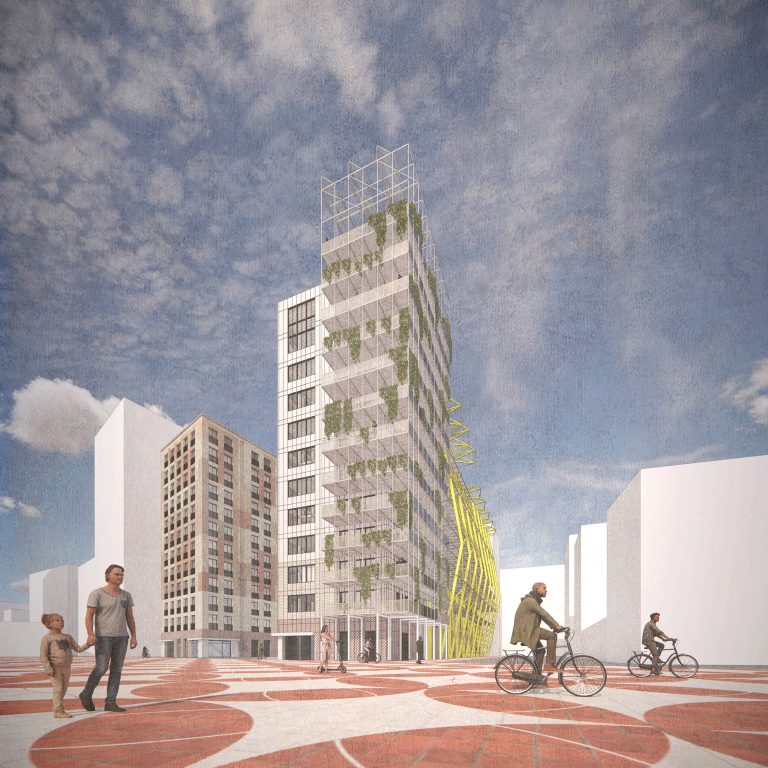 Through collaboration with the UKGBC, CIRCuIT, and Futureground, this project sets a precedent for achieving net zero on large-scale developments. RightSizer has been conceived to extend a building's life beyond 100 years, a longevity underpinned by the inherent system flexibility that can accommodate various use scenarios over the years.
Assael has been collaborating with a large team to develop this concept: 
London Borough of Enfield / Meridian Water
Competition stage: