Architecture
Residential
Rainsborough Square
Reinterpreting the traditional London square
Hammersmith & Fulham / London
Overview
Rainsborough Square has brought a key site back to life in Fulham by emulating the very best features of traditional London squares and combining them with modern interpretation and design.
Set behind retained and restored locally listed Edwardian arches, the design was influenced by the symmetry and proportions of traditional Georgian squares. The 40 townhouses and ten apartments, allocated for local key workers, encircle an impressive landscaped and pedestrianised square, designed to encourage community events and interaction among residents.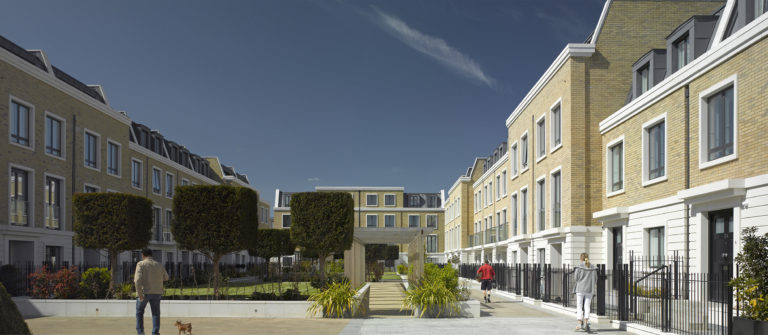 Across the square, the palette of materials balances traditional influences with contemporary features. The ground floors are clad in stone whilst the floors above are London stock brick with stone cornices. Dormer windows and set back terraces give a varied roof profile to respond to the immediate context of terraced streets, whilst modern aluminium windows set within stone reveals provide one of the many contemporary touches.